Time-lapse video of two hours of last night's fire on South Table Mountain, from 9:14 to 11:13 PM:
And a few images of the fire's progression:
NASA recently released 7 years of SDO data compiled into an impressive timelapse video (take a look if you're into such astro-geekery). Back in the Fall of 2011 when my family and I were on Semester at Sea, I'd captured a pretty good set of sunspots while out on the Atlantic Ocean: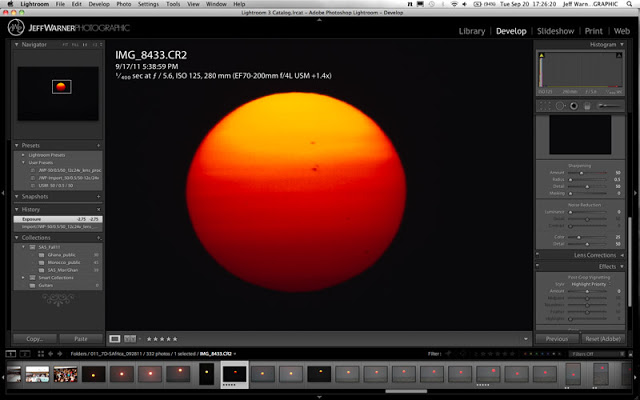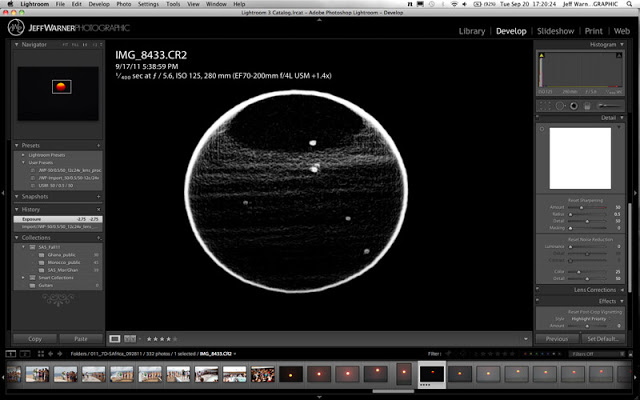 I took a look at the SDO data to see if it would match up, and other than the rotation of the sun being wrong (the data is coming from a spacecraft, where there is no reference for 'up'), the sunspot pattern matched up perfectly: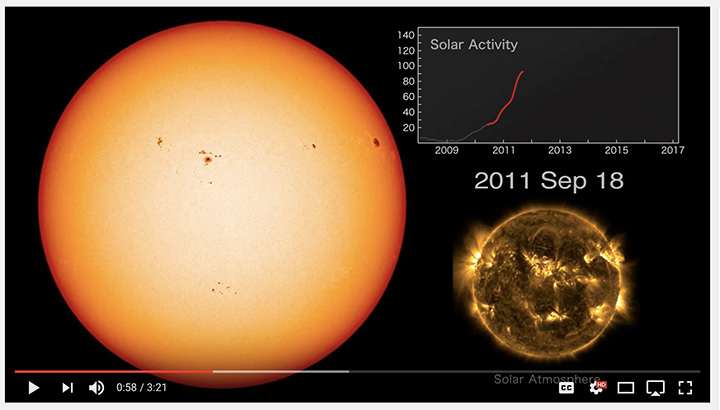 Here is the text from the blog post of that day, just for the fun of it:
Another day at sea, and the air has cleared a bit, giving way to clearish skies, perfect for capturing the disc of the sun dipping into the horizon. As a result, please enjoy an image of sunspots, one version straight from the camera, the other viewed showing the mask of a sharpening algorithm, which illustrates quite plainly the locations of them on the surface of the sun. Sunspots can last for days or weeks (I believe), the larger of which can contribute to radio communications interference here on earth. Several years ago I experienced a significant solar radiation event while flying around Denver, and for a few days reaching hospitals on routinely-used VHF frequencies was marginal, at best.

Enjoy.
Fortunately this time it didn't take 4 months to learn that Space.com again picked up an image of mine, in this case, the recent TerraLapse composite of the Nov 2016 SuperMoon rising over the Denver skyline: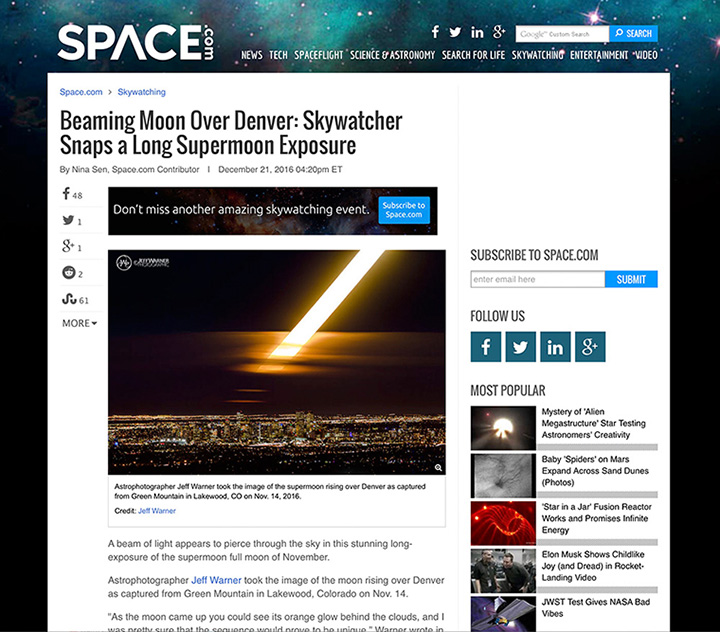 Tonight's Olde Golden Christmas Candlelight walk was an amazing sight to behold. Several thousand people participated, and I decided to create a TerraLapse composite image from the entire 20+-minute procession:
I sat on a cactus to get this shot.
No, really. And I mean, really, really sat on a cactus, that kind with the dozens and dozens of nearly-microscopic needles that go right through any fabric, glove, or whatever else you want to try smothering it with. [cough!]
Anyway, sometimes I just have a feeling when something is going to work out, and tonight it was like something was pulling at me to remain outside, despite the dropping temperature and impending dinner guests. I was finishing a 7+ mile hike up and around Mt. Galbraith (sans camera), and as I descended the last 500′ into the neighborhood, the strong northwest winds hitting South Table Mountain were rapidly creating a repeating series of amazing orographic clouds (previously described in a prior post). I got home as quickly as I could to get camera gear, and hoofed it right back up the hill high enough to get above the 'hood.
The image above was captured as the sun descended into a bank of (relatively) low-level winter clouds to the west, between 4:03 and 4:32PM. This TerraLapse composite image represents:
433 50 MP images (Canon 5Ds, 4-sec intervals)
27.7 GB of images
28 minutes, 52 seconds of time
~3.5 hours of computer time
60+ minutes trying to remove microscopic cactus needles from several things.
I'll take that cactus.
And oddly, tonight, the fire on Green Mtn. provided an image similar to yesterday's, albeit with winds from the opposite direction, and a bit different 'temperature':
And the time-lapse video:
This afternoon's rather strong northwest winds created optimal conditions for orographic cloud formation over North Table Mountain. Winds were entering the image from the left and hitting N. Table, forcing the air upward. The rising air cooled (from expansion) to below the dew point, causing the increasing cloud layer running toward the south (from left to right in the picture). In the summer, such orographic uplift can be responsible for spawning thunderstorms as the unstable clouds continue to rise after the initial push upwards.
This TerraLapse composite image represents 7 minutes, 28 seconds of cloud development:
During my two weeks in Cuba, it was the only single, solitary instance of negative sentiment displayed in public toward Fidel Castro, who died last night at the age of 90, that we had seen. Greg's friend Miguel, who had lived in Sancti Spiritus for his entire 6+ decades of life, had never once–before that day–seen any such public defacement. Miguel appeared to be rather surprised, and yet seemed to ultimately brush it off to the recently impending changes in political climate that was so clear to see.
[TRANSLATION]: Raul Castro read this message dressed in olive green in his office, according to local TV and other state press in Cuba:
"With deep pain I appear to inform our people … that today November 25, 2016 at 10.29 p.m., the commander of the Cuban Revolution, Fidel Castro Ruz, died. Complying with the expressed will of Comrade Fidel his remains will be cremated in the early hours of Saturday, the 26th. The funeral organizing committee will provide our people with detailed information on the posthumous homage to the founder of the Cuban revolution."
According to state media reports on the island.
Whether you mourn or cheer his passing, Fidel Castro stands as one of the few on earth who have thumbed their nose at the U.S. Government and lived to tell about it. Despot or hero? He was both to many, but his relentless stubbornness and antagonism toward America's imperialistic pursuits in the region often put him at odds with being able to attend to his people's needs. As the cold war era ended and the dissolution of the Soviet Union resulted in the hasty removal of financial support in 1990-91, Fidel's centralized approach to the Cuban economy more often than not resulted in misery for his people. And yet with so little money or resources (due in large part to the ongoing embargo, considered by Castro to be a 'blockade'), he was able to build rather progressive–and arguably successful–solutions to both medical care and education for the masses. His autocratic approach to governing led to many civil rights and free speech violations, and his unflappable vision of their country remaining ideologically separate from the West effectively determined that he doggedly pursue political strategies and tactics that left his people stuck in the past, still living amidst a crumbling 1950s infrastructure with no true investment in the future.
I have hope that Fidel's passing will allow people here in the U.S. to have a more balanced and objective opinion of today's Cuba, as it is now mostly unlike the vision that most cold war-era Americans have been led (fed?) to believe. There are not billboards of Fidel Castro all over Cuba (we saw one). There are no more people begging on the streets than here in the U.S., probably less, in fact. People are not carted off to prison daily, and in fact many political prisoners are being released. Free speech on the internet is not completely confounded in Cuba as it often is in places like China; there are many active bloggers in Cuba who can and do voice opinions that decades ago would surely have landed them in jail, although internet accessibility remains an issue, mostly one of technical infrastructure.
If you think that the people of Cuba are wholly suffering, you need to go there.
If you think that Raul Castro is just another extension of the militaristic rule of decades past, you need to go there.
If you think the economic embargo that has been waged upon this Caribbean island has been politically and/or socially successful (let alone acceptable) and should continue, you need to go there.
Don't blindly accept what politicians like Marco Rubio foment about it 'there'; he has never even been to Cuba.